Want to add a 'Sitges Hire' Listing:  Tell us here
Or Contact us via Facebook.com/Sitges : Twitter.com/Sitges
Sitges Bicycle Bike Hire Rentals

Collect or Deliver
---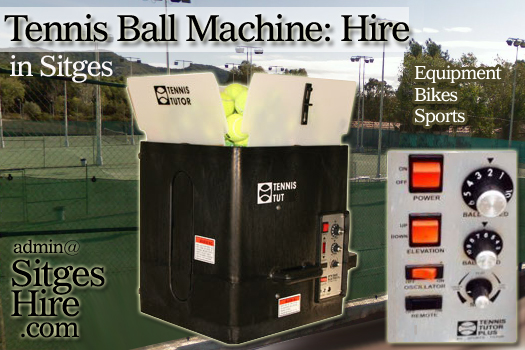 TENNIS BALL MACHINE
(Serving Practice)
Tennis Tutor Plus :
Features:
– Player modes: Beginner, Intermediate, Advanced
– Oscillator: Random, 2-Line Narrow, 2-Line Wide
– Center On/Off
– Settings for: Speed, Elevation, Spin and Interval
Contact us on: sitges @ outlook.com
---

WHEELCHAIR hire rental in Sitges
Wheelchair to rent hire in Sitges, Barcelona, Spain :
10€ a day, 20€ 3 days +, 35€ per week, 75€ one month.
(add 25% in peak : July/Aug/Sept & Dec/Jan/Feb)
Deposit 150€ (minus rental fee amount)
via Cash if we are delivering or PayPal, paid the day before.
To cover theft and damage (copy valid passport can be taken)
Wheelchair photographed before rental, hiring out.
(7€ for delivery or collection when we can accommodate
or separate cab fare)
Contact us on: sitges @ outlook.com
WHEELCHAIR IN BARCELONA
Català: Lloguer de cadira de rodes
Castellano: Alquiler de silla de ruedas
English: Wheelchair hire
Français: Location de chaise roulante
Italiano: Noleggio di sedie a rotelle
---
BICYCLE

 BIKE

hire rental in Sitges
Sitges Bikes: SitgesBike.com

---
MOTORHOME CAMPER hire rental in Sitges
Motorhome Hire: MotorhomeHire.es – Sitges (Barcelona)
Email : moreinfo@motorhomehire.es
(Motorhome Hymer Campervan Camper Hire Rental firm shop company? Want added? Tell us here)

---
MOPED MOTO (Scooter, Vespa, Motorbike) hire rental in Sitges
Motos Viñola: MotosVinola.com- Paseo Vilanova, 31-33 08870 Sitges (Barcelona)
Email :info@motosvinola.com Phone : 938 111 674
(Moped Moto Motorbike Hire Rental firm shop company?
Want added? Tell us here)

---
Car Motor Coche

(van, truck, furgoneta, camión, camió) hire rental in Sitges
Travel Pablo: TravelPablo.com – Campmari,35, 08870 Sitges, Barcelona, España
Email : tba Phone : 938 111 978
(Car Motor Vehicle Coche Hire Rental firm shop company?
Want added? Tell us here)

---
Renting or Hiring out, something in Sitges???
Tell us here
---