Want to add a 'Sitges Hire' Listing:  Tell us here
Or Contact us via Facebook.com/Sitges : Twitter.com/Sitges
Sitges Bicycle Bike Hire Rentals

Collect or Deliver
---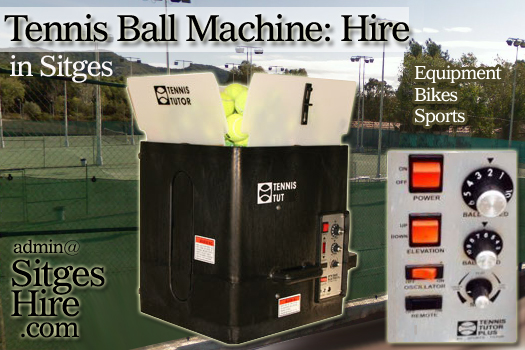 TENNIS BALL MACHINE
(Serving Practice)
Tennis Tutor Plus :
Features:
– Player modes: Beginner, Intermediate, Advanced
– Oscillator: Random, 2-Line Narrow, 2-Line Wide
– Center On/Off
– Settings for: Speed, Elevation, Spin and Interval
Contact us on: sitges @ outlook.com
---

WHEELCHAIR hire rental in Sitges
Wheelchair to rent hire in Sitges, Barcelona, Spain :
10€ a day, 20€ 3 days +, 30€ per week, 40€ 2 weeks, 70€ one month.
(add 25% in peak : July/Aug/Sept & Dec/Jan/Feb)
Deposit 100€
(plus rental fee amount)
via Cash if we are delivering/you are collecting 08810 or PayPal, paid the day before.
To cover theft and damage (copy valid passport can be taken)
Wheelchair photographed before rental, hiring out.
(7€ for delivery in Sitges/Ribes
or collection in Can Per De La Plana,
when we can accommodate)
Contact us on: sitges @ outlook.com
WHEELCHAIR IN BARCELONA
Català: Lloguer de cadira de rodes
Castellano: Alquiler de silla de ruedas
English: Wheelchair hire
Français: Location de chaise roulante
Italiano: Noleggio di sedie a rotelle
---
BICYCLE

 BIKE

hire rental in Sitges
Sitges Bikes: SitgesBikes.com

---
MOTORHOME CAMPER hire rental in Sitges
Motorhome Hire
(Motorhome Hymer Campervan Camper Hire Rental firm shop company? Want added? Tell us here)

---
MOPED MOTO (Scooter, Vespa, Motorbike) hire rental in Sitges
Motos Viñola: MotosVinola.com- Paseo Vilanova, 31-33 08870 Sitges (Barcelona)
Email :info@motosvinola.com Phone : 938 111 674
(Moped Moto Motorbike Hire Rental firm shop company?
Want added? Tell us here)

---
Car Motor Coche

(van, truck, furgoneta, camión, camió) hire rental in Sitges
Travel Pablo: TravelPablo.com – Campmari,35, 08870 Sitges, Barcelona, España
Email : tba Phone : 938 111 978
(Car Motor Vehicle Coche Hire Rental firm shop company?
Want added? Tell us here)

---
Renting or Hiring out, something in Sitges???
Tell us here
---